Who Are We?
In 2001 a group of concerned residents got together as a result of the increase of crime in the area. They felt that they could not sit back and simply complain about the criminal problems in the area, but they had to find a solution and they and the residents would have to become part of the solution. That was the start of the "Edenglen South Ratepayers Road Closure Association".
Frequently Asked Questions (FAQ's)
Please read the FAQ's so you can understand how the Road Closure works.
New Member's Letter
New Member's Welcome Letter
New members of the road closure please read the Welcome letter.
Committee Members are:
Dave Lones, Diana Gowans, Daniel Cerbone, Kevin Kent, Jeffrey Macer-Wright, Nicola den Hond.
Gates
The Edenglen South Road Closure falls into Sector 3.
The SAPS Dedicated Patrol Car can be contacted directly on
071 675 6841 / 44
Edenvale Policing Sectors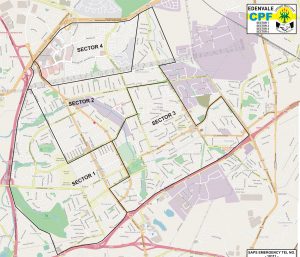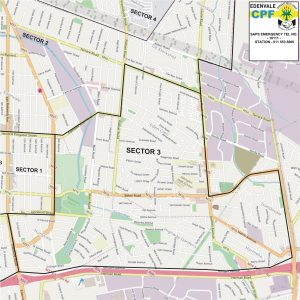 The Edenglen Road Closure is divided into two parts – the Edenglen South Closure and the Edenglen North Closure.
The South Closure boundaries are as follows:
There are three boom gates in the South Closure which we are responsible for, namely Wagenaar/Palliser Rds, Wagenaar/Harris Rds and Steyn/Baker Rds.
The North Closure boundaries are as follows:
There are three boom gates in the North Closure which they are responsible for, namely Erasmus/Harris Rds, Erasmus/Palliser Rds, Smith/Terrace Rds.
The Edenglen North's website is http://www.enrc.org.za/ and the North's Chairman is Quentin.
Current Committee Members are:
Dave Lones, Diana Gowans, Daniel Cerbone, Kevin Kent, Jeffrey Macer-Wright, Nicola den Hond.
The Committee Members meet on the second Thursday of every month. Only the Committee Members attend these meetings.
The Residents Feedback Meeting is held once per annum in September of each year, usually at the Edenglen Primary School. Details of the Residents Feedback Meeting are sent to you in a Newsletter well in advance. All documentation relating to the Residents Feedback Meeting is on the webpage. Minutes of the Meetings, Budgets and Cash Flow of the Edenglen South Closure.
Any matters that residents would like to discuss at the Residents Feedback Meeting must be emailed or faxed to the ESRC seven days before the meeting.
Should any resident require information on any matter, at any time during the year, please feel free to email, fax or post your query to ESRC and a relevant Committee Member will answer your query by return email, fax or phone.
Contact Us
EDENGLEN SOUTH ROAD CLOSURE NPC Reg no: 2002/020882/08
Address: PO Box 2262, Edenvale, 1610
Web Address: www.edenglensouthclosure.co.za
FAX: 086 5097106
E-MAIL: edenglensrc@gmail.com
Email us to arrange collection of Road Closure Decals and Membership Board.
Emergency No's
Mamba Emergency – 011 6090227 Available 24/7

Mamba Reception – 011 6090237

SAPS Dedicated Patrol Car – 071 675 6844/5

Edenvale Police SAPS – 011 4538556 104 First Avenue, Edenvale.

Other Emergency SAPS No's – 10 111 or Report a Crime 0860 10 111
Crime alerting protocol – Here is a brief summary –
If you see any thing suspicious or are aware of a crime report it to the Mamba control room immediately.
011 609 0227
Provide the committee with additional details using our email address. edenglensrc@gmail.com
Our email address, edenglensrc@gmail.com can be used to raise any operational issues, concerns, suggestions or questions related to the activity of running the closure.
Communication Channels
Mamba has set up a WhatsApp Security Group for our suburb. The objective of this group is for residents to inform each other about suspicious activity or a current/ongoing crime situation. If you are a Mamba client or a road closure member and want to join the Security Group then you can contact Mamba or SMS your name and address to 083 300 2975. Mamba will then go through a process to verify you, and that you are an armed response client or road closure member. Once done they will add you to the group.
Our email address (edenglensrc@gmail.com) is the official channel for communication.
It is impossible to expect the committee to be aware of and be part of every and all social media channels set up by various individuals. There is no guarantee that if you post something on Edenvale Hub (for example) that you will get a response.
Please note that all the relevant communications details are provided below.
Emergency – Mamba (011 609 0227)

SAPS Sector 3 vehicle 071 675 6844/5

www.edenglensouthclosure.co.za – Our official web site, all past newsletters are posted here.

www.edenglensrc.blogspot.com – Community notice board. Do not post crime reports or closure operational issues here, rather use our email for this.
Council Matters
Please refer any council matters to Heather Hart via email.
Heather Hart
Councillor – DA Ward 18
Heather's email address is: proexec@netactive.co.za
Service Delivery Issues

All service delivery issues must be reported to 0860 543 000 or can be emailed to call.centre@ekurhuleni.gov.za but must include a call number so one can receive a reference number in case of the need to follow up or one can download the Ekurhuleni App from the Appstore.
Recycling
Kwakhona Recyclers collect on a Friday in our area.
This is their link – https://kwakhonarecyclers.co.za and this is their Facebook page – https://www.facebook.com/groups/499144850635918/
Anyone interested in having their recycling collected should contact Charmaine on 072 473 7279 and she will include your address on her route.