COMMUNICATION TO ALL RESIDENTS IN EDENGLEN SOUTH ROAD CLOSURE (ESRC)
RECYCLING WASTE PROJECT
We wish to inform all residents in ESRC of the Recycling Waste Project effective immediately in the area where we live.
Objective:
Reduce persons scratching in dustbins on the days waste is removed i.e. Tuesdays (north of Wagenaar) and Wednesdays (south of Wagenaar) in Edenglen South Road Closure
Recycle materials that are placed as waste for collection
Contribute positively to job employment
Requirement from ESRC Residents:
Residents are required to separate the recyclable waste, place it in the normal black plastic bags and add a blue or yellow sticker. Blue = cans, plastic and glass + Yellow = newspaper, magazine, boxes etc.
These bags with recyclable waste items (plastics, glass, tins etc.) must be placed outside on the pavement the day before the normal day of collection of waste i.e. Monday and Tuesday.
Neli Radebe (Remarkable Waste) and her team who are dressed in recognisable clothing will collect these bags.
NELI RADEBE (REMARKABLE WASTE)
Contact from Heather Hart Councillor for our Ward 18 Ekurhuleni
Has a business setting up small teams of reliable recyclers who then recycle in a dedicated area
Neli purchases the waste from them from a suitable site to save them having to drag their heavy trailers to a buy back centre
Neli has examples of areas where this is working very well. "I am passionate about 'professionalizing' them should they be suitable candidates and giving these recyclers some respect."
She has worked with recycling in Johannesburg Municipality
There are 50 recyclers on her database
Recyclers will be dressed in recognisable clothing
Neli she ideas of organizing recyclers per street and to pay via ewallet
Neli Radebe and her team will distribute the attached pamphlet in every post box in ESRC. This pamphlet can be printed and given to all those who empty the dustbins as this collection of recycling materials is now being formalised through Remarkable Waste Management Solutions. This helps in creating jobs.
For any queries please contact:
Jenny Leong (ESRC Resident)      Cell:  083 390 4711 or jenny.leong@telkomsa.net
Neli Radebe (Remarkable Waste)    Cell: 079 919 2697 and see more details on pamphlet
We who live in such privileged circumstances need to help those less privileged as they will not disappear. This contributes to all sharing in the resources of this beautiful country South Africa that we live in.
Click on the picture below to read the pamphlet and then click on the BACK arrow to return to the email.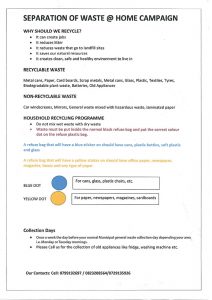 Click on the picture below to read the pamphlet and then click on the BACK arrow to return to the email.