The committee needs to get approval from the paying members of our road closure for an extraordinary non budgeted expense of R180 000.
This money will be used to fence off Palliser Park on the East side of our suburb.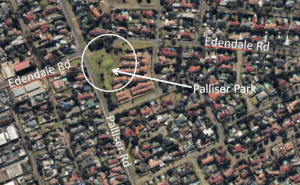 2 residents and the old age home around this park are having problems with vagrants and rubbish pickers living in and utilising the park.  There have been complaints of noise during the day and late at night, defecation, drinking (possible use of drugs), smoke/smell, rubbish and using the area to strip and sort objects for recycling.  On occasion the residents have tried to speak to the vagrants or clean up the park and they in turn have been ignored or threatened with violence.  If anyone wants to see what is going on then drive past there on a Tuesday around noon when they are sorting through recycling.  Mamba/Police/Metro have made some attempts to remove the vagrants but they are back the next day.
The length of palisade fencing required is approximately 175 meters.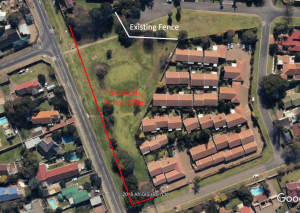 We, and the effected residents, have been in contact with council and Heather Hart.  Suggestions have been made regards security and removing any hiding places for the vagrants in the park – e.g. additional Metro/Police patrols, removing vagrants, removing hiding places in the park by removing mounds and removing trees.  These suggestions have mostly been ignored by council but there is an option to fence the park and include it within our road closure.   We would have to submit an application to council to get approval for this.
Discussions have been held between Heather Hart, the Closure committee, the effected residents and the old age home.  It has been agreed that  –
The existing fence will not be removed.
The effective residents will have keys to the park and they will bear the cost of any maintenance required for the park .
The resident will open the park when required.
The resident has proposed beautifying the park and adding facilities for the benefits of all residents.
The resident will apply to council for the closing of the park and bear any associated costs.
We need to determine what capital contributions will be made by the closure, the old age home the effected residents and any other residents who would like to contribute.  The effected residents are closure members but the old age home is not a member, in spite of being approached several times in the past to join.  The old age home have indicated they will make a capital contribution and may join the closure – we are waiting for a response from them.  At this stage it looks like the majority of the expense will have to be paid by the closure members from our capital reserve, but we have always held the view that this would be required for re-applications for our closure, to pay for any legal issues that need to be resolved with council and and for capital upgrades to our existing infrastructure.
The committee will have to call for a vote from the closure members to approve this expense as we do not have the authority to approve such a large expense on our own.  We will do this using an online survey.
In the meantime we have set up a discussion thread on our web site at the following address – http://edenglensrc.blogspot.com/2018/07/fencing-off-palliser-rd-park.html.
We are calling on all residents who have any comments/objections to post these on this site.  We want this discussion to be as open as possible so please use the discussion thread rather than sending email to us.
Once the comments and vote have been completed the committee will make a final decision.
Regards
Edenglen South Road Closure Committee
—
Remember to always maintain a high level of awareness, especially when you are leaving or entering your home/driveway.  Please tell your family and domestic workers to also be on the lookout.  Report all suspicious behaviour to Mamba control room (tel number below) and warn the residents using @ESRCAlert.
Regards,
Derek
On behalf of the Edenglen South Road Closure Committee
Committee: Kim Johnson, Des Kelly, Derek Gowans, Dave Lones, James Taylor.
Emergency – Mamba (011 609 0227)
SAPS Sector 3 vehicle 071 675 6844/5
Twitter – report any suspicious activity or crime in progress to all residents of our suburb by including the word @ESRCAlert in your twitter message.  Make sure you are following @ESRCAlert to immediately receive any crime related messages.
www.edenglensouthclosure.co.za – Our official web site, all past newsletters are posted here.
www.edenglensrc.blogspot.com – Community notice board. Do not post crime reports or closure operational issues here rather use our email for this.