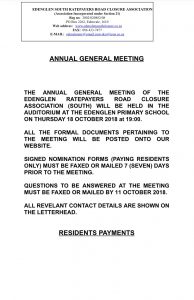 Please see attached notice for our AGM.  It is worth having a look at this document as it shows graphs of our contribution rate when we first started the closure and what has been happening over the last 18 months.  This downward trend is something we all should be very concerned about.
—
Remember to always maintain a high level of awareness, especially when you are leaving or entering your home/driveway.  Please tell your family and domestic workers to also be on the lookout.  Report all suspicious behaviour to Mamba control room (tel number below) and warn the residents using @ESRCAlert.
Regards,
Derek
On behalf of the Edenglen South Road Closure Committee
Committee: Kim Johnson, Des Kelly, Derek Gowans, Dave Lones, James Taylor.
Emergency – Mamba (011 609 0227)
SAPS Sector 3 vehicle 071 675 6844/5
Mamba Whatsapp Security Group – to join contact Mamba or SMS your name and address to 083 300 2975.
Twitter – report any suspicious activity or crime in progress to all residents of our suburb by including the word @ESRCAlert in your twitter message.  Make sure you are following @ESRCAlert to immediately receive any crime related messages.
www.edenglensouthclosure.co.za – Our official web site, all past newsletters are posted here.
www.edenglensrc.blogspot.com – Community notice board. Do not post crime reports or closure operational issues here rather use our email for this.