Please see below from Mamba:
EDENGLEN NSF FOR DOMESTIC WORKERS!
Mamba will be hosting a Neighbourhood Security Forum at the Maree Cres Park, Edenglen,
All residents and domestics are welcome.
Date: Thursday, 11 April
Time: 9:30 – 10:00am
The purpose of the Neighbourhood Security Forum (NSF) is to maximize the number of eyes and ears in the area that are being utilized in the fighting, prevention and combating of crime. Involving domestic workers, as well as residents that spend time at home during the day, is the best way to create a sustainable and effective security awareness team.
Get great tips and advice about security awareness when at home. Topics discussed include how to report suspicious activity, what to do in an emergency and how to prevent becoming a target.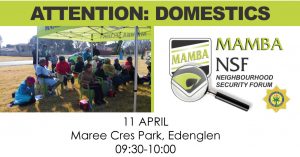 —
Remember to always maintain a high level of awareness, especially when you are leaving or entering your home/driveway.  Please tell your family and domestic workers to also be on the lookout.  Report all suspicious behaviour to Mamba control room (tel number below) and warn the residents using the Mamba Whatsapp Security Group and/or @ESRCAlert.
Regards,
The Edenglen South Road Closure Committee
Committee: Des Kelly, Derek Gowans, Dave Lones, James Taylor.
Emergency – Mamba (011 609 0227)
SAPS Sector 3 vehicle 071 675 6841 (this number is also used for Sector 1, Sector 2 and Sector 4 can be contacted on 071 675 6844)
Mamba Whatsapp Security Group – to join contact Mamba or SMS your name and address to 083 300 2975.
Twitter – report any suspicious activity or crime in progress by including the word @ESRCAlert in your tweet or send a direct message to @ESRCAlert.  Make sure you are following @ESRCAlert to receive any crime related messages.
www.edenglensrc.blogspot.com
 – Community notice board. Do not post crime reports or closure operational issues here rather use our email for this.
This email is intended only for residents who live in the Edenglen South Road Closure and should not be distributed in any form without the direct approval of the ESRC Committee. This email and any accompanying attachments may contain confidential and proprietary information. This information is private and protected by law and, accordingly, if you are not the intended recipient, you are requested to delete this entire communication immediately and are notified that any disclosure, copying or distribution, or taking any action based on this information is prohibited. Emails cannot be guaranteed to be secure or free of errors or viruses. The sender does not accept any liability or responsibility for any interception, corruption, destruction, loss, late arrival or incompleteness of or tampering or interference with any of the information contained in this email or for its incorrect delivery or non-delivery for whatsoever reason or its effect on any electronic device of the recipient.