A home was burgled in Viljoen street at lunch time today.  The resident opposite was filming the crooks when they noticed this and shot him while trying to take his phone away.  This is the most serious incident we have had since we closed. The resident was airlifted to hospital in a stable condition.  The Committee asks that all residents keep this family in your thoughts and prayers.  There were 4 to 5 African males in a silver X3 BMW, registration BP 23 KN GP (this registration number is probably false or switched).  If you see this vehicle please immediately call your security company and SAPS.  DO NOT APPROACH OR STAY AROUND these criminals, they have shown that they will not hesitate to shoot.
Shortly before this there was a burglary in le Roux Street possibly committed by the same gang.  The concerning thing for us as a Committee is both these houses have armed response with a company other than Mamba.  We have noticed that the last few incidents have been with non Mamba clients.  Please note  – we are not doing this to sell armed response for Mamba, the choice of armed response is entirely at the discretion of each resident but we would like all our residents to be aware of the issues and trends we are picking up in our suburb.
We have retrieved photos of the vehicle and driver from the closure and Mamba's camera systems.  These photos have been handed over to SAPS.
Please note that when residents make comments about Mamba not finding a BMW with black occupants suspicious on the emergency group that we have many African families living in our suburb and comments like this are racist and offensive to them.
Our crime stats for the year are published below.  This is the worse year we have had in the last 8 years.  At the last residents meeting the outgoing Chairman did say that crime is rising in South Africa – crime is a serious issue, there is a major lack of employment in our country, the closure contribution rate has been declining and at its lowest level since the closure started and we live in an affluent area.  All these factors are likely contributing to our increased rate of crime.  Please can all residents take extra care at home or wherever they may go in our country.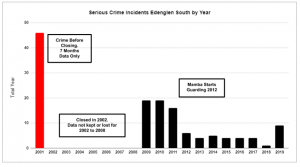 —
Remember to always maintain a high level of awareness, especially when you are leaving or entering your home/driveway.  Please tell your family and domestic workers to also be on the lookout.  Report all suspicious behaviour to Mamba control room (tel number below) and warn the residents using the Mamba Whatsapp Security Group and/or @ESRCAlert.
Regards,
The Edenglen South Road Closure Committee
Committee: Dave Lones, Diana Gowans, Daniel Cerbone, Kevin Kent, Jeffrey Macer-Wright
Emergency – Mamba (011 609 0227)
SAPS Sector 3 vehicle 071 675 6841 (this number is also used for Sector 1, Sector 2 and Sector 4 can be contacted on 071 675 6844)
Mamba Whatsapp Security Group – to join contact Mamba or SMS your name and address to 083 300 2975.
Twitter – report any suspicious activity or crime in progress by including the word @ESRCAlert in your tweet or send a direct message to @ESRCAlert.  Make sure you are following @ESRCAlert to receive any crime related messages.
www.edenglensrc.blogspot.com
 – Community notice board. Do not post crime reports or closure operational issues here rather use our email for this.
This email is intended only for residents who live in the Edenglen South Road Closure and should not be distributed in any form without the direct approval of the ESRC Committee. This email and any accompanying attachments may contain confidential and proprietary information. This information is private and protected by law and, accordingly, if you are not the intended recipient, you are requested to delete this entire communication immediately and are notified that any disclosure, copying or distribution, or taking any action based on this information is prohibited. Emails cannot be guaranteed to be secure or free of errors or viruses. The sender does not accept any liability or responsibility for any interception, corruption, destruction, loss, late arrival or incompleteness of or tampering or interference with any of the information contained in this email or for its incorrect delivery or non-delivery for whatsoever reason or its effect on any electronic device of the recipient.